What We Do
Revolutionizing order fulfillment services for eCommerce businesses everywhere.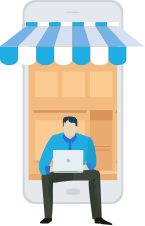 E-Commerce Fulfillment
Omni-Channel order and inventory management back-end office.
Retail Fulfillment
Just-in-time case-pack delivery directly to your retailers and distributors!
Subscription & Crowdfunding
Bundle, personalize and schedule your monthly subscription fulfillments.
Flash Sale Fulfillment
Dynamically map your listings to the items you ship on-demand!
What Our Customers Say
Amazing service and app! They are simply awesome. ShipRelay automatically keeps our inventory in check for all of our belt and buckle combinations that we list on Shopify and Amazon.  Their customer support is amazing and they handle kickstarter/Indigogo!
Quick Software Overview
Omni-Channel Order and Inventory Management Back Office; mapping, bundling, real-time quoting, split orders, holding, address changes, fraud flags, order merging, order personalization & more.
Control all aspects of your fulfillment.